Permanent restrictions after ACDF surgery are usually not significant, but they are something you want to understand prior to surgery. Spine surgeons such as myself commonly perform anterior cervical discectomy and fusion, to relieve spinal cord or nerve root pressure causing pain, weakness, numbness, and/or tingling in the arms. This condition is called radiculopathy. ACDF involves removing the cervical disc to relieve that pressure, replacing the disc with material to maintain the space, and inserting metal screws or plates to provide a structure for the bones to fuse together.
While this surgery is very effective at providing pain relief, I always want my patients to be aware of the potential permanent restrictions that may follow. In this blog post, I will outline the limitations individuals may face after undergoing ACDF surgery and put them in relative perspective for people considering this surgery.
First, it's important to understand the difference between short-term side effects and permanent restrictions after ACDF surgery. Most patients will start to feel better within one to two days after surgery. Patients who have been experiencing burning, shooting pain into their arms usually experience immediate relief. ACDF surgery recovery time usually takes about 6-8 weeks. During this time, you will have some restrictions on lifting and movement, and you may be given a neck brace or collar. I want my patients to take it easy during this time mainly to give the bones time to fuse with the hardware. Once patients are 8 weeks post-surgery, there are few permanent restrictions and most patients consider these minor in comparison to the potential outcomes of significantly reduced pain and a higher quality of life.
Permanent Restrictions after ACDF Surgery
Swallowing: I'm addressing this issue first because so many patients worry that neck surgery will impact their ability to swallow. Nearly every patient will have difficulty swallowing for the first day or two during the recovery process due to swelling caused by the surgery. This is normal in the short term but patients normally do not have any long-term swallowing issues and there are no restrictions on what you can eat or drink.
Neck Mobility: Because this surgery involves fusion of two or more vertebrae in the neck, patients will experience some permanent loss of spinal flexibility. Patients will not lose the ability to turn their heads right and left, but they will lose some forward range of motion. Generally, you should expect to lose about 5-10% of bending per level of spine that is fused. In many cases, however, patients have already lost that flexibility before surgery due to the pain from degenerative disc disease. Not everyone, but a lot of people, don't notice this change because they already self-limited their movement.
Activity: The most common question I get from patients is whether they can drive after ACDF surgery. If you are put into a neck collar following ACDF surgery – usually due to trauma – you will not be able to drive until you are out of the collar. Otherwise, there are no permanent restrictions on driving.
There are relatively few permanent restrictions on any type of activity or work after you're fully healed. I limit contact sports for kids, but for adults, it's OK to drive, ski, snowboard, work and do everything you did before surgery. I recommend taking it easy with extreme sports, like back country skiing or aggressive mountain biking, because your neck is slightly weaker due to surgery than before.
While ACDF surgery does give you a slightly higher risk of permanent injury to your neck if you're engaged in high-risk activities, there are two things to keep in mind:
If it's an activity you love, you've already accepted that you are putting yourself at risk of injury. Is there a higher risk to neck injury after ACDF surgery? Probably a little bit, but you're already in an incredibly high-risk environment so it doesn't add enough where I'd say you shouldn't do it.
Without surgery, you're at risk of permanent pain or damage. Fixing that problem may put you at a little bit higher risk of nerve damage or spinal cord damage than the average person, but you're better off fixing the problem. Again, this only applies to high-risk behavior. For the average person who is not flying a fighter jet or rappelling off cliffs, this slightly higher risk of injury is negligible.
Heavy Lifting: After ACDF surgery, I tell patients not to lift anything heavier than a gallon of milk until the fusion has healed. We also recommend stool softener. Both measures are to prevent straining, which could cause a cauterized vessel to pop open. We also don't want straining to pull on screws or implants. You need to take time to rest and fuse.
Once you're completely healed, you can get back to your weight-lifting regimen, with the exception of any exercises that put heavy weight on your neck like squats or clean jerks. ACDF surgery doesn't limit you from any job that requires heavy lifting once your fusion has healed. Of course, using proper lifting techniques and practicing good body mechanics is always important in protecting all of your spine and also can help minimize strain on the neck and protect the fused area. You will be taught these techniques in physical therapy following surgery, but it's up to you to use them even after you're completely healed.
Phone Use: One permanent restriction that isn't talked about much and applies to all people whether or not you've had ACDF surgery is to limit phone (or computer) time if you are bending your neck forward to see the screen. Your head weighs 10-15 pounds and is evenly balanced when you are sitting straight up. If you flex your head forward, it weighs up to three times that and puts pressure on the interior portion of the neck and deforms the way the bones in the neck sit. This is a big reason a lot of people are needing ACDF or cervical disc replacement earlier, and increases the risk that you will need subsequent surgery after ACDF surgery.
Future Neck Surgery: This is not a permanent restriction, but I am including this point because it is a long-term effect of ACDF surgery. ACDF patients have a 10-15% risk of needing another neck surgery on an adjacent segment in the next 10-15 years. The jury is still out on whether that is due to the first surgery putting strain on the vertebrae above and below the fusion or whether these patients are experiencing continued degenerative disc disease that would occur even without ACDF. The answer is probably a combination of these factors. Patients who are considering ACDF surgery may want to ask their surgeon whether they are a candidate for cervical disc arthroplasty, or disc replacement. Although it is currently limited to patients who only need 2 segments fused, disc replacement surgery does seem to offer reduced risk of further surgery.
Becoming an Informed Patient
ACDF is a marvelous procedure that has been medically proven to provide incredible pain relief for the appropriately selected patients. But like every surgery, it's important for patients to understand short-term ACDF surgery risks and long-term permanent restrictions and weigh those against the potential benefits.
At Neurosurgery One, we will require you to attend a spine surgery class prior to your operation. This class will teach you the risks associated with surgery and what you can do to minimize or eliminate any ACDF surgery complications. I want all of my patients to be well informed and feel comfortable communicating with me and every member of my team. This helps ensure the best possible outcome for you after ACDF surgery.
Considering ACDF surgery? Learn the difference between a neurosurgeon vs. orthopedic surgeon and which to choose. 
Additional Resources on Neck Pain and ACDF Surgery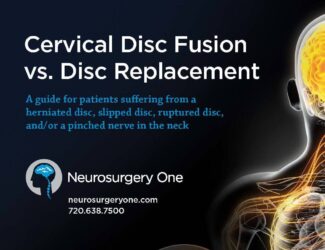 ACDF vs Disc Replacement for Neck Pain
Learn when you are a candidate for neck surgery, the pros and cons of ACDF vs. disc replacement, and how to select a surgeon for your neck surgery in this guide.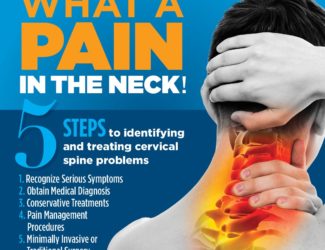 Neck Pain Causes and Treatment Infographic
Neck pain is one of the most common conditions people experience. This infographic explains causes, when to seek care, and treatments.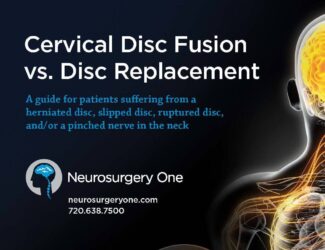 Video: ACDF vs. Artificial Disc Replacement for Neck Pain
Learn the difference between anterior cervical discectomy and fusion (ACDF) vs. artificial disc replacement and the pros and cons of each in this video.